Beauty and personal care E light hair removal
Seller

Beijing Noble Laser Technology Co., Ltd.

Min. Order

1 Set/Sets

FOB Price

US $4000-7800 /Set
Product Description
E-Light+RF+Nd Yag Laser Multi-functional Beauty Equipment
APPLICATION of Elight+RF+Nd:Yag Laser Beauty Machine
1) Remove speckles and other pigment problems
2)Skin rejuvenation,
3)Treat blood vessel and telangiectasis
4)Treat acne mark and other scars. Remove unwanted hair. Wrinkle removal.Remove
5)Tattoo removal. Remove all kinds of eyebrow tattoo, eye line, lip line, eyelid tattoo etc. Remove Freckles, foxiness, coffee, superficial and deeper speckles, age pigment, birthmark, nevus, upper skin splash, Traumatic pigmentation,etc.Treatment Skin lesion of blood vessel,hemangioma, Red blood streak.
HOW IT WORKS
The machine highly combines the technology of E-light(IPL+RF), RF( Cooling Bipolar,Tripolar), Nd: YAG Laser
ADVANTAGES of Elight+RF+Nd:Yag Laser Beauty Machine
1) Elight , RF and Nd:YAG 3 systems in one machine and can work separately
2) High energy outputs, high effective.
3) Different IPL spot size suitable for different area treatment
4) Powerful refrigeration system, Adjustable cooling level control by software.
5) 10.4 LCD Color touch Screen
6) Expert system with skin type and skin color selectable
7) Adjustable cooling bipolar RF system
8) 1064nm,532nm and Black Doll head for Nd:YAG Laser
9) USA & German standard hand piece fast connection
10) Semi-conductor cooling head and water cooling system
11) CE Medical approved, ISO13485,93/42/EEC standards production processes
12)24 hours continuous work
E-Light System
Nd:Yag Laser System

RF System
SPECIFICATION of Elight+RF+Nd:Yag Laser Beauty Machine
Lamp-house

Super intense pulsed light

Range of Spectrum

480-950nm: remove acne

530 -950nm: speckle treatment

560 -950nm: skin rejuvenator

590-950nm: remove vessel

640 -950nm: remove unwanted hair

690-950nm:remove unwanted hair,opitional

755-950nm:remove unwanted hair,opitional

810-950nm:remove unwanted hair,opitional

RF Frequency RF

3MHZ

RF Power

1-100J/CM3

Density of Energy

Portable: 1~50J/cm2, Vertical: 1-60J/cm2

Power supply output

Portable model: 1500W, Vertical model: 2000W

Size of Spot

Filter handpiece: 12*30mm2, 13*40mm2, 16*50 mm2

Energy fixable handpiece: 8*40mm2, 16*50 mm2

Amount of pulse

1~6,adjustable

Interval of Pulse

1~99ms,adjustable

Sub-pulse Width

0.1~9.9ms,adjustable

Cycle

1~4s,adjustable

Cooling Way

semi-conductor cooling, water cooling, air cooling

Cooling Tempreture

-5-5 °C

Screen

5.7 /8.4 inch color touch screen

Power Supply

220V/110V ±10% 50Hz/60Hz
Frequency

Tripolar: 1-40MHz , adjustable

Bipolar: 3M

Monopolar: 1M

Output Mode

Monopolar, Bipolar, Tripolar

Energy

5~450J , adjustable

Spot Size

Face: 10x20mm Body:Φ80mm

Cooling Control

0°C~30°C adjustable
| | |
| --- | --- |
| Laser Type | Q-Switched Nd: YAG laser |
| Wavelength | 1064nm&532nm |
| Pulse energy | Single Pulse: 1000mj |
| Duration (WIDTH) | 6ns |
| Pulse Repetition Rate | 1-6Hz,Adjustable |
| Voltage | 500-1000v,Adjustable |
| Indicator light | ruby indicator |
| Treatment Area | 1mm2 - 7mm2 |
| Cooling Method | Closed-loop de-ionized distilled water cycle |
| | |
| --- | --- |
| Screen | 10.4 inch color touch LCD screen |
| Cooling Way | Water&semi-conductor cooling |
| Power Supply | 220V/110V ±10% 60Hz |
| Weight | 70 kg |
| Continuous working period | 24 hours |
| Language | English, Spanish, French, Portuguese, German, Russian |
Noble Laser E-Light+RF+Nd Yag Laser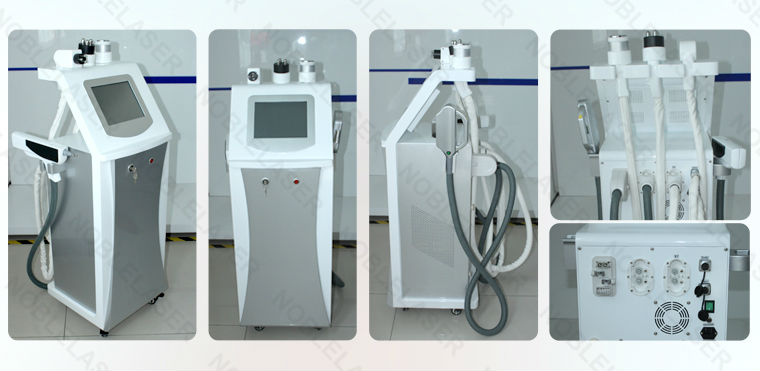 WARMLY WELCOME TO VISIT NOBLE LASER !!!
Noble Laser
Company Culture

Certification
Package

Delivery

Service
Contact Information
Tel.: +86 10 59937720
Fax: +86 10 59937719
Web: www.noblelaser.com
E-Light+RF+Nd Yag Laser Eos 3X-A
E-Light+RF+Nd Yag Laser Eos 3X-B